You can open a book in MackinVIA and take notes while inside the app. Here are the details:
FIRST, CHECKOUT AND OPEN THE BOOK
If you have not checked the book out, do so! Find the book and click the Checkout button.
Then, click on the green backpack on the upper right next to "Welcome, [your name]".
Click on Checkouts.
Click on Download.  This step makes the book "yours" so you can highlight needed material.  
Open the book by clicking on the Title or the book icon (to the left of the title).
NOW THAT THE BOOK IS OPEN, YOU ARE READY TO CAPTURE TEXT FOR REFERENCE IN A PAPER.
RECAP:
Check out the book. DONE!

Download the book to your iPad. DONE!

Open the book.  DONE!

NOW TO TAKE SOME NOTES!
OVERVIEW  
Highlight text you wish to use

Add to "My Notebook" for future reference

Move contents of My Notebook to Notability for printing, to send to teacher, etc.
We STRONGLY SUGGEST you practice using My Notebook to capture specific text and page numbers to use in paper. Here's how:
Open the book and move past the title page and table of contents to access a chapter of text.

Click and hold a word until the word turns blue with a red border and a command line above the word selected.

Use the red dots to select as much text as you want.  

Click on Add Note

You are given a chance to type in a note – there's no cursor, so

 just start typing.

When through, tap the "close keyboard" button on bottom right of the iPad keyboard.  This pulls the keyboard down so you can….

Tap save. 
Now to make sure it worked:
Look under the

notebook icon

(upper right) and you will see the highlighted text that would be referenced in your paper, the date added to the notebook, with the page number.

You can Edit and delete any reference you want.  The highlight will disappear and so will the information found in My Notebook.

Take a screenshot and insert in Notability if you teacher needs to see progress or you want a hard copy to use.
---
Can't find the book you checked out? See the graphic and narrative below for help!
---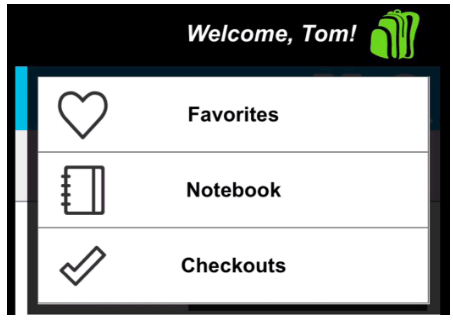 Clicking your name at the top of the screen gets you these options.  Click on Checkouts to see the material you checked out.
---
Other tidbits that may help: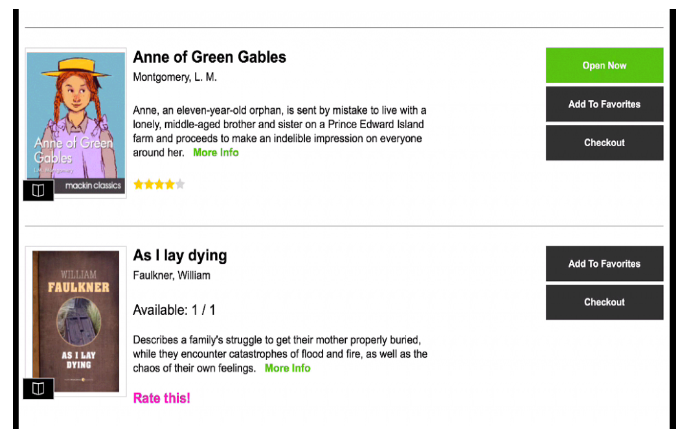 Open Now

= there are a practically unlimited number of copies available.
Add to Favorites

= there is a favorites list available. Click your name at the top of the screen to get to your list.
Checkout =

there are a limited number of copies available, similar to the way physical books work.
Two additional buttons appear after a book is checked out:

Return

and

Renew